Home>>Cars>>Fiat Tipo Station Wagon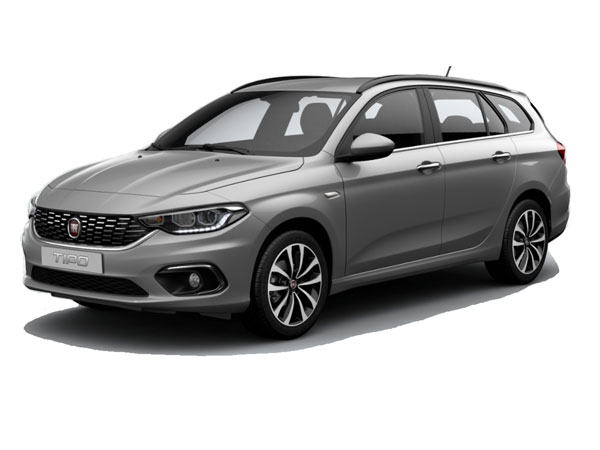 D2. - Fiat Tipo station wagon (or similar)
Car Rental
Characteristics: 1300 cc, manual, AC, ABS, airbags, 5 seater, 5 doors
The Fiat Tipo station wagon is a well-known Italian city car, it is practical for its size and easy to drive, can be your transportation "guide" around the island, and is convenient and economical. It is more robust and fitter than any other car in this category, and the safety standards and the renting costs keep the car's value high. Modern elegant, and spacious. With all the space you need for your vacation and your family.
Standard Features (included in price):
Unlimited kilometers – Third  Party insurance – 24/7 technical support – Seasonal Offers (not cumulative in high season)
Optional features (additional on price):
Additional Driver – Baby seat – Driver's age limitations – Roadside assistance care – Out of hours & office Delivery Fee – Collision Damage Waiver (CDW) – Super 1 Collision Damage Waiver (S1-CDW – Super 2 Collision Damage Waiver (S2-CDW) – Full Damage Waiver (FDW) – Theft Waiver (TW) – Personal Accident Insurance (PAI) – GPS device & 4g WIFI internet connection (upon availability) – «Full to Empty» fuel service.
All rental features are TAX & VAT (24%) included.


Available
Partially Reserved
Not Available
November 2023
Mon
Tue
Wed
Thu
Fri
Sat
Sun
01
02
03
04
05
06
07
08
09
10
11
12
13
14
15
16
17
18
19
20
21
22
23
24
25
26
27
28
29

30
December 2023
Mon
Tue
Wed
Thu
Fri
Sat
Sun

01

02

03

04

05

06

07

08

09

10

11

12

13

14

15

16

17

18

19

20

21

22

23

24

25

26

27

28

29

30

31
January 2024
Mon
Tue
Wed
Thu
Fri
Sat
Sun

01

02

03

04

05

06

07

08

09

10

11

12

13

14

15

16

17

18

19

20

21

22

23

24

25

26

27

28

29

30

31
Select the Dates for Pick Up and Drop Off